GAFE, DRIVE, DOCS… I LOVE IT ALL!
Click here to visit the FCPS created GAFE help page!
Over the past several years I have been working to slowly integrate more "Google" into my classroom.  Reading online, watching tutorials, and seeing other teachers having great success inspired me to try and make my classroom more streamlined and interactive by "going Google."  It was a slow and painful process… I can not reiterate the word slow enough!  Problems with wireless connectivity, my own naivete, and reluctant students (who were probably sensing my lack of experience) made for a difficult and rocky start. I thought I was innovative, creative, and inspiring enough!  Turns out my efforts, albeit not totally new and ahead of the curve, were not in vain.  Eventually the integration started to streamline, and plan A's stuck around long enough to eliminate plans B, C, D.. and I was becoming an "expert" (per my own definition)!
Now a Google Aficionado, I had a new semester and a new plan.  I knew the basics: Google Drive, Docs, Sharing, Collaborating, Revision History, Research, Citations, etc… but now it was time to dive in!  One form turned into several, and learning QR codes turned into an obsession!  Suddenly everything was a Google form and my teaching bag was empty because all my papers were shared and stored on my Drive.  I found a system that worked for me and with a steady hand managed to teach my students a few integral tenants:
(1) within a few weeks even my most reluctant learners new how to create a document (titled lastname.assignmentname) and share it immediately with me, (2) they knew how to share with each other, (3) they knew how to comment, highlight, communicate, and just over all collaborate together!
I had ONE… yup, one… issue where a student tried to be "funny" and change the font, color, and size of his partner's paper, but out of 77 students, that is not bad!  A little trust goes a long way, and reinforcement of expectations really helps!  By the end of the semester I had students downloading apps and extensions on their own, a major improvement and well worth my years of trial and error!
Here are a few of my go-to tricks:
Always, always, always use Google Chrome (in my opinion).  Our default web browser is Explorer, but Chrome is more interactive for our students.
My students are amazing at saving work: always as their last name.assignment name (ex. Long.Research1)

Some people prefer to have students make 1 folder to share with the teacher and just keep everything there. It's like  24-7 access to their backpacks.
This also helps the students know what the assignment is if they go looking, at after initial eye rolls they start to actually like it!

Share immediately with me- they are so good at this!  I give them 5 minutes to create and share, after 5 minutes I notify my missing kids and help them as needed.
Organize Folders by Assignment Name.  Within each folder I make a sub folder for the CLASS.  **I also keep all of these assignment folders in one SCHOOL YEAR or SEMESTER folder.

For example: Spring 2014 > Research Papers > Period 1
Why does this work for me?  Instead of having to open a folder for each student and find the assignment, they are all NEATLY and ALPHABETICALLY organized for me.  I can check my folder against my roster or gradebook, making grading and searching for missing work a snap!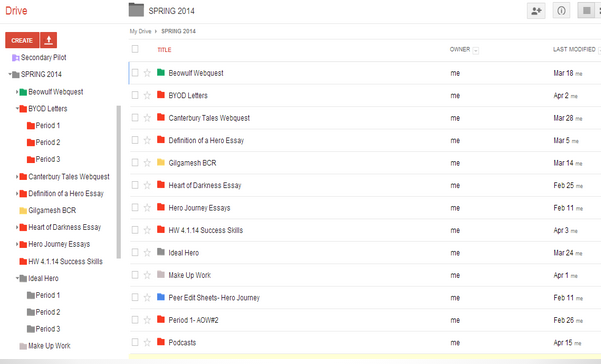 Some Helpful Images, Videos and Links!
Helpful Shared Resources for Getting Started!